Welcome to
<![if !vml]>
<![endif]>
<![if !vml]>
<![endif]>
Super Nova is a home-brew space shooter game for the Commodore 64.
It pays loosely homage to the old Atari classics Starmaster and Star Raiders.
Download:
<![if !vml]>
<![endif]>
super-nova-v3.d64 (latest version)
Super Nova V2 +3D (CSDB)
Super Nova (C64 Games)
Instructions:
Your star system is attacked by six enemy battlestars that try to reach and destroy the sun. Your mission is to stop them!
Cockpit:
<![if !vml]>
<![endif]>
The status display shows either your enemy the condition of the sun. When it turns from yellow to red, then the nova is not far.
Map:
Press M to open the map. This only possible if no enemy is in range.
You can only fly to one of the next sectors to your current position.
| | |
| --- | --- |
| <![if !vml]><![endif]> | Sun: Protect the sun! |
| <![if !vml]><![endif]> | Planet: Fly to the plant and blow up the repository ship to gain a shield. |
| <![if !vml]><![endif]> | Space Station: Here you can regain the ship's energy. |
| <![if !vml]><![endif]> | Enemy Hunter: There are one to three enemy hunters in this sector. |
| <![if !vml]><![endif]> | Enemy Battlestar: You need to get a shield to go there. It will vanish after the jump. |
| <![if !vml]><![endif]> | Vortex: Teleports you to a random sector. Without a shield it will damage your ship. |
| <![if !vml]><![endif]> | Destroyed Space Station or Planet: Your enemy will destroy your space stations and planets when the game goes on. |
Screenshots: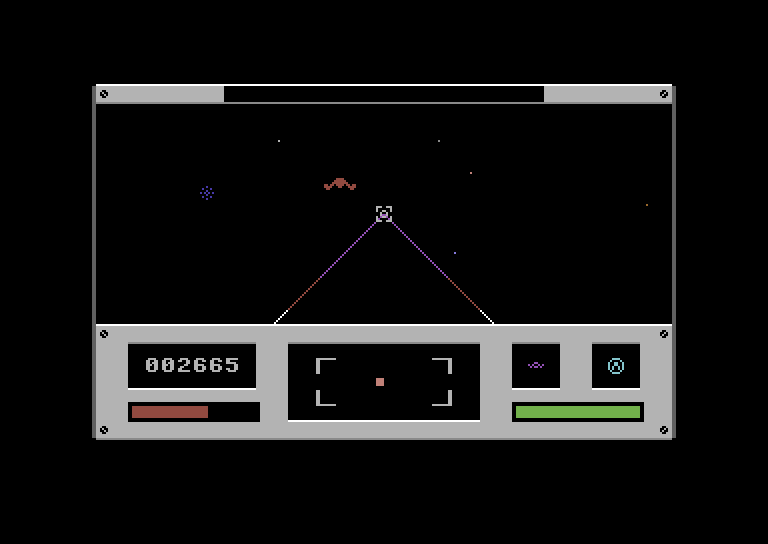 <![if !vml]>
<![endif]>
---
Mission 64:
<![if !vml]>
<![endif]>
Check out Mission 64 – an illustrated book about the C64 (in German)
---
<![if !vml]>
<![endif]>